Vodácký ráj
Sale and rental of boats and rafts - Vodácký Ráj - canoe, raft, kayak.
We are at a new location on Císařská louka # 27, Prague 5 - Smíchov. It's right on the river, so you can test your boat before you buy it!
Welcome to the Vodácký Ráj website.
Interesting product range:

SALE: 2x paddles FREE
This boat is designed for wide public, especially for those who want to canoe all water terrains on rivers, including rides during virtually any water conditions and do not want to always repair their boats.
Reg. price 20.860 CZK
Price 18.400 CZK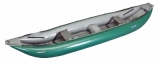 The self-bailing canoe BARAKA is suitable for river travelling and for moderate white water.

Price 28.999 CZK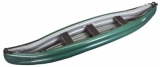 Canoe SCOUT Economy is an infl atable canoe of a typical shape, however with a fully modern design. The main advantages are the comfort equipment, a huge space inside, high load.

Price 26.999 CZK
---

PALAVA - innovated model of the Palava inflatable boat will capture your interest with its sportier look and better riding characteristics earned due to the sharper bow and stern and a longer body.

Price 21.499 CZK

FRAMURA is the fastest kayak produced by Gumotex which is designed for recreational trips and river travelling.

Price 24.999 CZK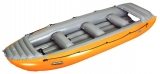 The COLORADO is a universal boat for holiday travel along the river with family or for sport river riding up to difficulty level WW4.

Price 33.999 CZK
---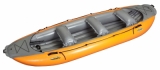 ONTARIO is a boat for six people suitable for travelling on river with the whole family or friends with full luggage for several days.

Price 30.499 CZK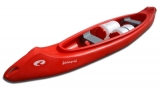 Sale: 2x paddles FREE
Samba 4.5 is designed as a tourist canoe suitable for calm water surfaces and water flows up to WW 2.
Reg. price 21.300 CZK
Price 18.480 CZK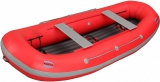 Člun KULTA REVO 345 je revoluční koncept nafukovacího člunu pro pádlování na řekách. Tvarem a nosností zdánlivě připomíná raft, ale není to raft.

Price 31.990 CZK
---